I was writing the highlights of my trip to Taiwan from last month and realised that because we saw too many things in two full days, it would be best if I wrote it as a list. We were invited by by Eva Air, Taiwan Tourism and Jeron Travel. It was my first time to see Taiwan, and I found a lot of pleasant surprises.
Here are the 10 reasons to love Taiwan from a first-timer's point of view.
01  Food
I've heard it many times before I left, "Ooh, Taiwan. The street food!" And it's true. It is street food paradise. The night markets are lined with food carts that cook everything from "stinky tofu" to roti to tempura mushrooms. But we also went beyond the market stalls and enjoyed fine restaurants.

An abundance of fresh fruits at Ximending Shopping District!

Cherry tomatoes


On the first night Old Manila Walks' Ivan Man Dy had to have his "Stinky Tofu"  

Food carts were a common sight at the Ximending shopping district  

This food cart sold different types of mushrooms which were mixed in batter and fried.  
Mushrooms mixed in batter, tempura-style.  

What looked like roti with egg and greens  

Flaky roti  

Sausages galore.  

Seafood platter at a traditional Chinese lauriat  

Roast duck. Yum.  

Ribs and green  

Steamed greens wrapped in barbecue pork at the Shihlin night market  

Caramelized fruit  

I didn't realize that Din Tai Fung originated from Taipei. I first had Din Tai Fung in Shanghai. This branch was located at the base of Taipei 101.  

A must-have in Din Tai Fung… Xiao Long Bao.  

But favourite dish in Din Tai Fung is actually quite humble – just these simple stir fried beans. Go good!  

One of our best meals was at Have Hot Pot. I don't have the exact address but it's near Exit 2 of Shuanglian MRT Station facing Minsheng West Road. Thank goodness my colleague Anton of Our Awesome Planet was taking notes.  

The hotpot was excellent.  

They use real charcoal instead of a gas stove.  

The interiors had a nice east-west vibe. The produce, as is the case in all of Taipei, was always fresh.  
We loved the hotpot experience. But I have to say that the most unforgettable detail of this restaurant was its extra-crunchy yet extra-juicy fried chicken. I don't have a photo of it because I got my hands dirty and bit into the fried chicken right away. My tummy just growled writing that.  
Here's part of the media group that joined this familiarisation tour sponsored by Eva Air, Taiwan Tourism and Jeron Travel.  
02  Festivals
Taiwan is so close to the Philippines and yet it has all four seasons! So if you are into chasing the cold, you can go to Taiwan in the winter months. There is always some kind of festival going on no matter what season. While we were there, we got to see the Fulong Sand Sculpting Art Festival. It took about an hour by train to get to Fulong. We were transported to a picturesque town by the beach.  

These sand castles were no ordinary sand castles.  

They were enormous.  

Incredible detail  

I was so happy that I brought my little foldable umbrella with me. I used it to shield myself from the harsh sun that morning and the non-stop rain in the afternoon.  

Our media group. The tourism board gave all of us a baseball cap. So very practical! Loved it.  

The sand sculptures remained on site for about two months.  

I couldn't believe the incredible detail that went into these sculptures. The Sand Sculpting festival ended last June 30th. Watch out for next year's event.  
03 Night Markets

Ximending shopping district  

I need to go back and spend more time here.  

Loved the stores – a mix of local designers and foreign brands.  

A multi-storeyed hair salon  

I loved the shops that featured local designs.  

A testament to the strong youth culture in Taipei, some foreign sneaker brands like Nike and Adidas release designs exclusive to the Taiwan market. The collectors go nuts!  

I love the mix of street vendors, creative entrepreneurs and established retail brands all in one big pedestrian outdoor shopping area.  

This restaurant is so cute – Risotto. And they had their two resident mascots there.  

A vendor worked on these miniature dog sculptures in clay or resin.  

Shilin night market was busy, crowded, colourful, and fun.  

It is lined with rows and rows of shopping stalls.  

I had fun shopping with the shopping expert, Jenni Epperson.  

Back massages?  

Taiwan fashion  
04  Quaint old town of Jiufen
I was smitten by Jiufen. We only got to spend about an hour there, but I was hooked by the charm of the place. Jiufen is a popular tourist destination. There are busloads of tourists that visit this place. But despite the popularity with tourists, the place is not that touristy. You can still feel the strong local spirit – in their food, handicrafts, tea shops. You won't see much gentrification here except for maybe the one 7-11 landmark on the top of the hill. Jiufen was founded in the end of the 19th century when a gold rush transformed the formerly poor village with nine-households (there's a play of the word "nine" in the name of the town) into a prosperous mining town of 4,000 families. The gold rush reached its peak during the Japanese colonial period in 1895 to 1945 but it declined when the mining stopped. Jiufen became the setting of an award-winning movie A City of Sadness, which revived its popularity as a tourist spot. I'm more attached to it because of Hayao Miyazaki's film Spirited Away.  

The picturesque drive to the gold mining towns in Riufang District. Located off the Jinguashi-Shuinandong Highway, Golden Waterfall is fed by rainwater that seeps into the mines and mixes with pyrite and enargite.  

We walked from our bus stop to the old town of Jiufen but first we stopped by this deck…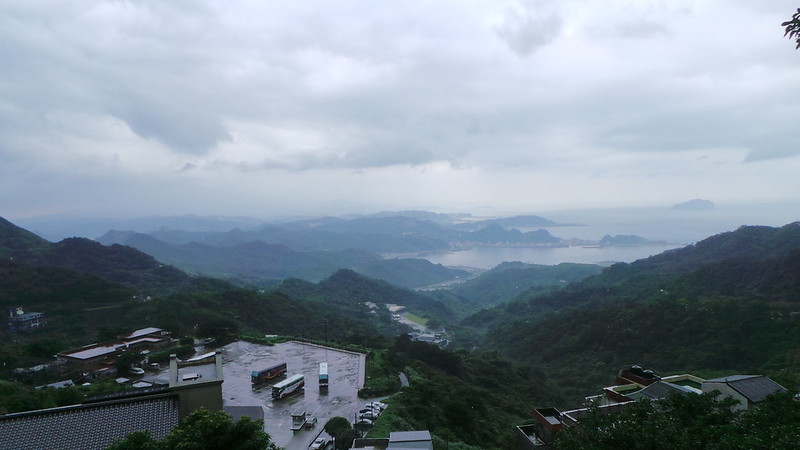 And marveled at the lovely view.  

It was nice to see small towns amidst forested areas along the shoreline.  

Local tourists arriving in Jiufen.  

Jiufen has become somewhat of an artists enclave.  

The village sits on a steep hill. There is a lovely walk through the back area where the artists actually live.

This is what the tourists come here for. Steep and narrow corridors lined with shops and tea houses.  

Cute tea house  

It's a lovely place to keep time still… while having a pot of tea.  

The charming tea house that inspired the movie Spirited Away. My hair is screaming Lion King here. This was because we spent the morning under the sun in Fulong beach, then got rained on at the gold mine and here in Jiufen. But nothing could dampen my spirit…  

Jiufen is so charming. I watched Spirited Away again when I got home.  

Jiufen is also spelled Chiufen. Most of the Taiwanese proper nouns are spelled in various ways, just pronounce them phonetically and you'll be fine.  

There was this one store that sold only cat paraphernalia. And the ceiling was covered by these hanging cards with messages about people's cats.  

Wooden magnets and red lanterns  

This was a particularly steep climb. The steps were so narrow, there were small doors and foyer landings on either side.  

It rained every day we were there. In June. Bring an umbrella or buy these inexpensive clear umbrellas from the night makets.  

One of the stalls in Jiufen sold these tea-soaked hardboiled eggs.  

Most of the homes in Jiufen, and in the rest of Taipei for that matter, have tiled facades.  

More tiled exterior treatments. I asked our guide why. He said it's for practical reasons. It often rains in Taiwan. The tiles act as some sort of weather-proofing. On the left, an interesting take on window grills.  
05  Gold mining
The gold rush during the Japanese occupation of Taiwan played an important role in the development of the towns in Northern Riufang District. Many factories and refineries were built and with that, towns developed to house workers and managers. By the time gold sources were exhausted, the villages were abandoned. It was only until the early 2000's that the heritage of these old towns were rediscovered and preserved. We spent a couple of hours walking through the Gold Ecological Park in Jinguashi, a pretty mountain area where the old mines were located. The walk up to the Gold museum was lovely. I particularly liked the wooden boardwalk and old railroad tracks. We actually experienced going through the Benshan Fifth Tunnel and had a Miner's Lunch at a quaint Japanese-period building. I like the concept of an ecological-museum in a park environment. It was a great way to know more about the Japanese colonial period of Taiwan. Yay for heritage conservation.  

On our way to the Jinguashi mining town is a river that's very rich in copper content.

It was a lovely walk up to the mines and Gold Museum.  

On the rooftop of the Museum of Gold  

We got to experience extracting gold out of sand.  

It was fun swishing the dirt back and forth underwater.  

And then we had gold.  

So this was my first time to touch a gold bar brick.  

It weights 220 kg  

The Benshan Fifth Tunnel gives guests the feeling of what it's like to be a miner.  

We went through the tunnels which were lined with safety railing and lights. There were also life-size dioramas of miners on display.  

A highlight of the mining town experience was our traditional gold miner's lunch in this Japanese colonial building.  

It came in a traditional Japanese tin lunch box, wrapped in a handkerchief.  

We all got to take home the lunchbox, hankie and chopsticks as a souvenir.  

Inside, the tastiest and most tender tongkatsu (pork cutlet) I've ever had.  
To see Part Two of 10 Things to Love about Taiwan, click here.
My trip to Taiwan was sponsored by Jeron Travel, Taiwan Tourism Bureau  and EVA Air.